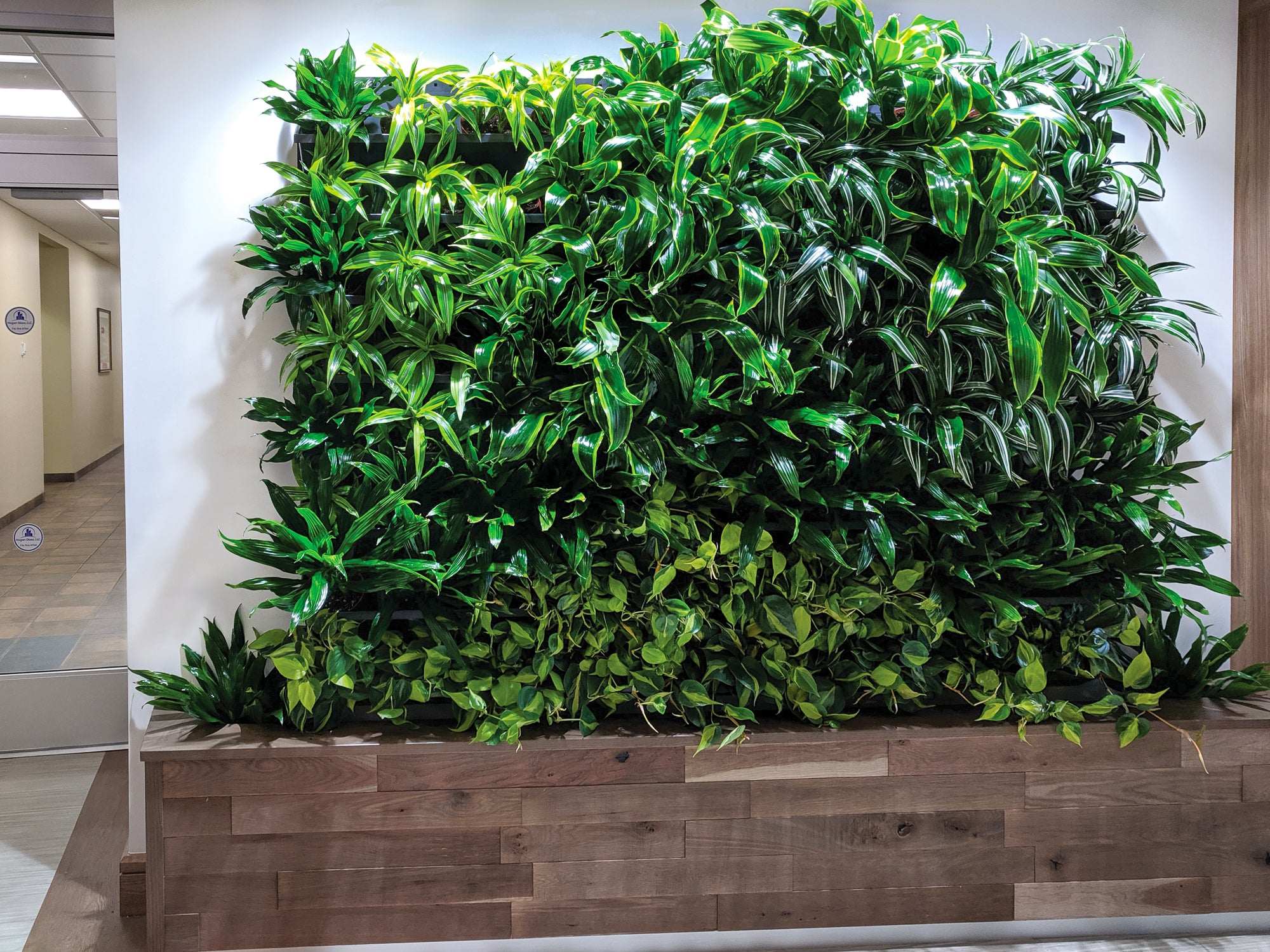 Plantups GreenWalls
There are many ways to design your office walls with Plantups GreenWalls. Below are the most frequently asked questions about our modular vertical green wall garden system.
Our green wall system is different because it works on a modular grid system. Each tray easily attaches to the wall grid. The plants stay hydrated with our unique wick irrigation that works with many varieties of plants, both inside and outdoors.
Many, many varieties of plants are available in standard grow pots of 4", 6" or 8" size. The wicks allow for easy watering and rotation as well as changing varieties with ease. Our specially designed Reservoir-Wick system keeps your plants above the water reservoir, thereby inhibiting fungus, mold, and rot yet allowing the plants to get water.
The "Magic" Caponic Sipper Wicks are made with environmentally friendly and durable Eco-Synthetic resin and are a vital KEY to success. This patented material precisely waters your plants via controlled capillary action to the plant root ball even if the plant soil is dry. Your plant uses the water it needs and no more!
Design to fit your space by adding to your green wall grid system both vertically and horizontally. We created a custom wall height that went up to 20' and used our recommended automatic irrigation. Call us for help with your project! We are glad to assist.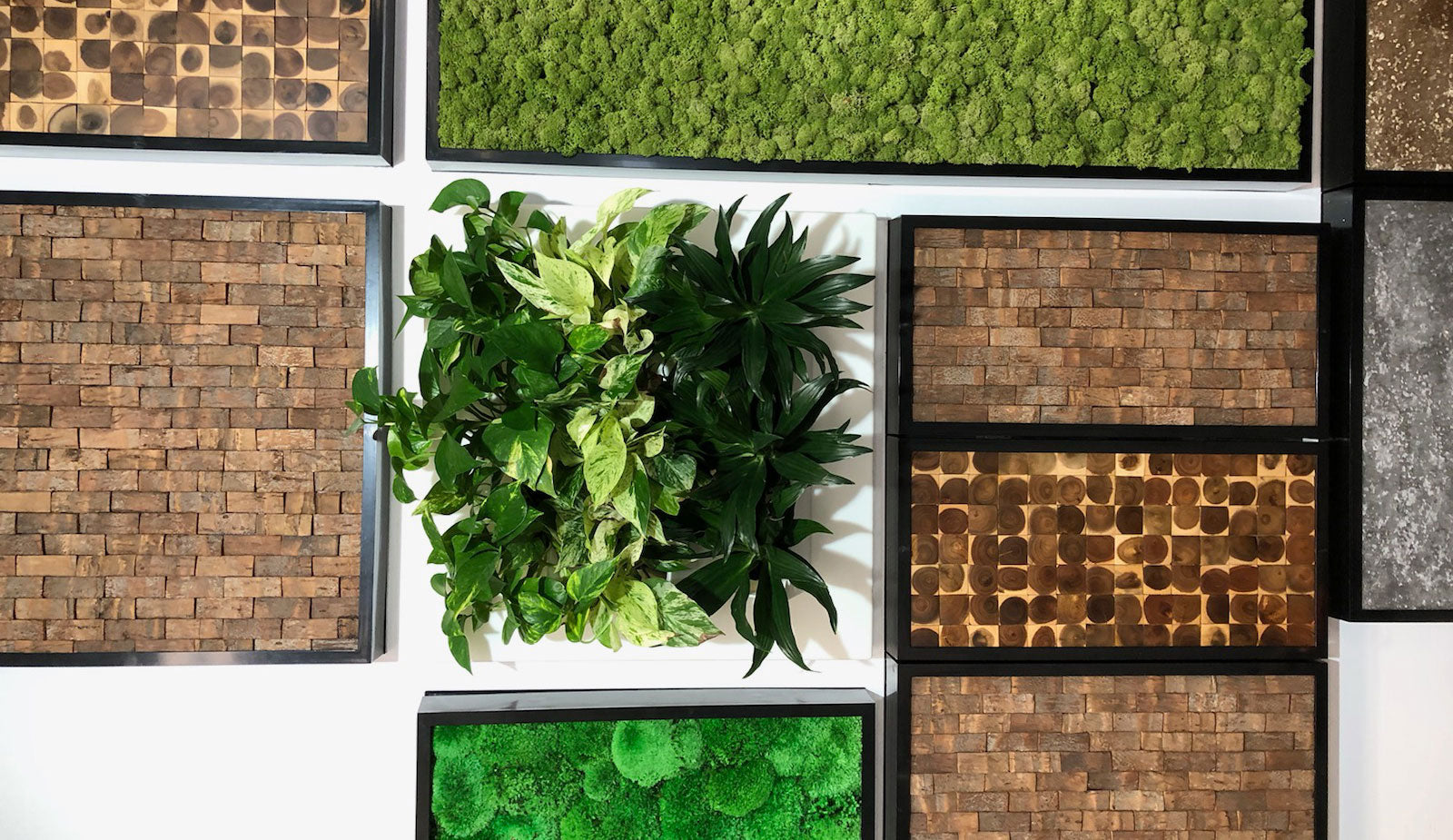 FAQs Plantups MossWalls
Moss Walls allow for an infinite number of design possibilities. Below are our most frequently asked questions about this biophilic and sustainable design strategy.
At Plantups MossWalls, we offer you many choices of biophilic, natural materials including acoustical reindeer moss, pole moss, sustainably harvested natural bark, and light stone. The frames are lightweight and fire-resistant. Each frame mounts easily on walls. There are four frame sizes to allow you to place natural moss walls in any space.
The moss wall does not require water, light or maintenance. It adapts to the surrounding humidity like a sponge. Low humidity level will cause the moss to become more brittle and the moss can return to its natural soft and pliable state if the humidity level increases. A clean grease and dust free environment without excessive air movement is best. Our moss holds its color longer than most due to the special process used for coloring.
Harvesting is done by hand, with respect for the plant and its surroundings. Our acoustical moss panels are made from preserved reindeer moss that grows in Northern European forests. While our pole moss is harvested and preserved naturally in the forests of France.
Our sustainable poplar bark panel is made from Yellow Poplar, species that originates in the Appalachian Hardwood region (AHR) in eastern USA. US department of agriculture studies show document that AHR hardwood acreage has remained stable at 65+ million acres since the 1980s. Yellow poplar has been increasing. The part we use was previously waste.
When the Coconut tree can no longer produce it famous fruit, the tree is harvested and used in building construction and furniture production. The "Coco Bark," has very few uses and is often discarded. We hand-craft the small pieces into beautiful natural panels that fit perfectly into our Moss Wall Art.
The Mangium Tree is used primarily in furniture production. Branches are periodically cut from the tree and could easily become waste. We slice and trim the branches into small tiles, then combine the tiles to create a stunning natural mosaic.
Yes, our Light Stone panels are a combination of natural stone and resin. This allows them to be lighter and easier to install and remove. Prairie Brown and Mountain Grey finishes are natural and beautiful options.
Moss is a natural product that offers an effective method of sound absorption in spaces where you'd like to reduce noise.
Pole Moss has an SAA of 0.90 and NRC rating of 0.90.
Reindeer Moss has an SAA of 0.55 and NRC rating of 0.55.
Poplar Bark has an SAA of 0.30 and NRC rating of 0.30.
*SAA is the Sound Absorption Average as defined by ASTM C423-17.
**NRC is the Noise Reduction Coefficient as defined by previous versions of ASTM C423.